Barcode software plays critical role in packaging supply and distribution industry to easily track record of goods, raw material, product and item details in affordable way. Barcode labeling software create and designing packaging labels, shipping labels and distribution barcode labels for distribution and movement of good (stock, in-out item details and item code etc) in efficient way. Barcode printing software design and print created barcode labels with print facility for Food packaging industry, Industrial packaging, Shipping industries and wholesale packaging industry etc in perfect way. Proficient barcode label design software facilitates to design own style of colorful barcode labels with advance barcode image designing objects including text, line, ellipse, picture, line, pencil to complete requirements of small, mid size and large size business organizations. Highest standard and well designed barcode labeler software provides step by step help to generate barcode labels, tags, sticker, rolls, coupons, images in efficient way. Barcodes generator software designed barcode images is useful to eliminate the complexity involved in traditional data entry process, keeps records of product details including price item marking, item code in simplest and time saving manner. Download free trial demo of packaging supply and distribution industry barcode making utility to test and evaluate the working functionality of software. Place order to purchase licensed version of barcode maker software.
Software Working Features
Barcode software helps to create and design customized barcode labels for packaging, supply and distribution industry in efficient way.
Barcode software fully supports linear and 2d barcode font symbology to create eye catching barcode labels for specified business needs.
Free trial demo of barcode software is useful to evaluate the working features and functionality of software.
Barcode software supports barcode printers and scanners to produce scanable and printable barcode labels in convenient way.
Barcode software supports major version of windows operating system to print created barcode tags for further reference.
Accurate Barcode Generator: Software is helpful to copy created barcode labels and paste into MS word, excel and paint applications for future usage.
Barcode Maker for Packaging, Supply & Distribution Industry Screenshots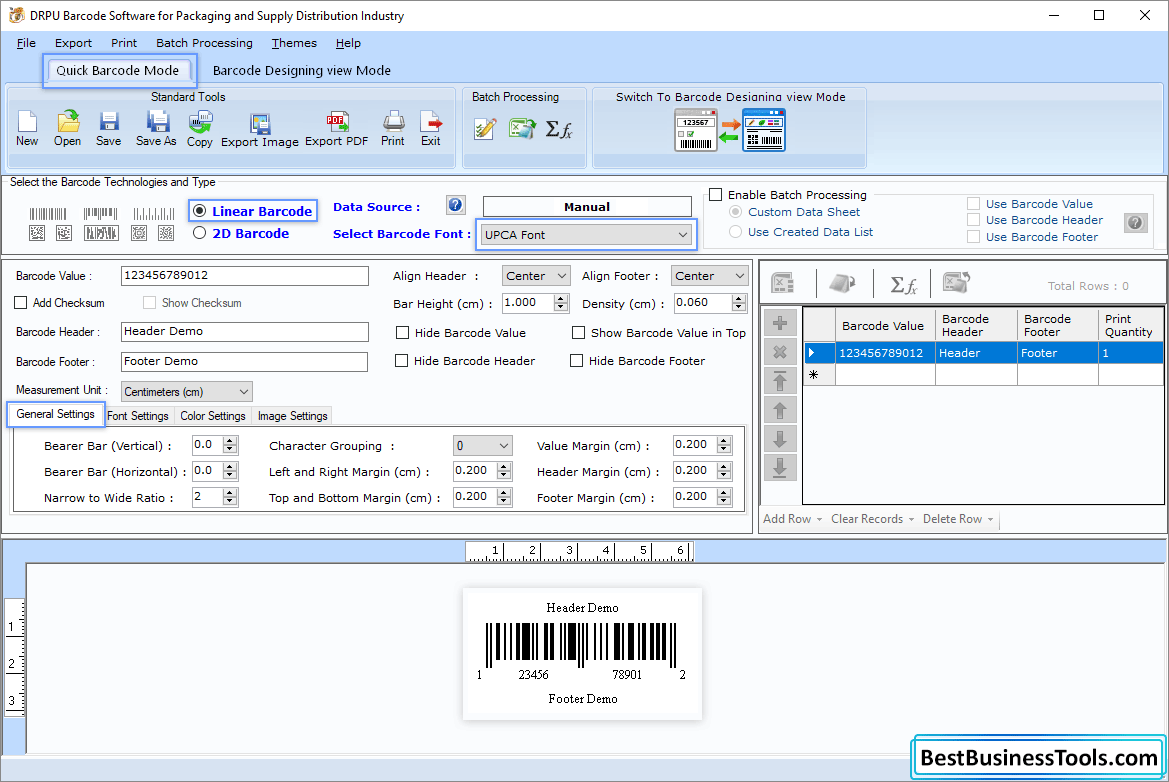 Select Linear Barcode then in General Settings change margin, character grouping and bearer bar.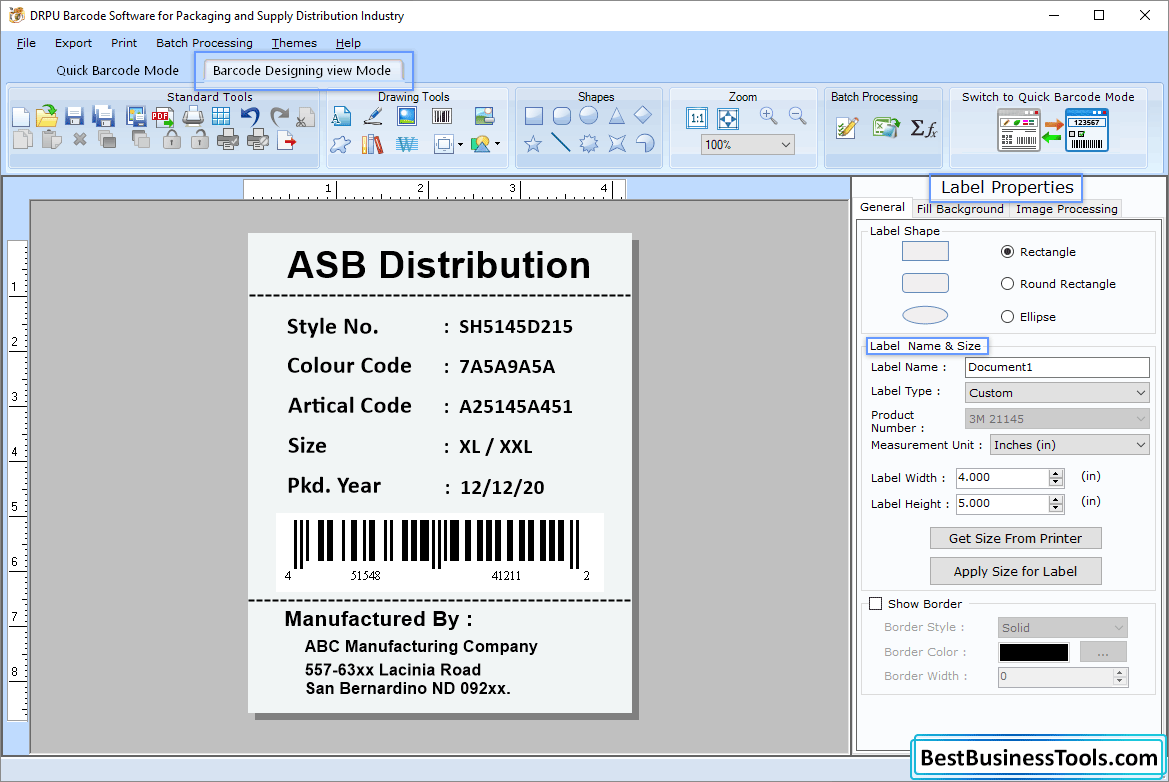 In Label Properties, select Label Shape, Label Name & Size and Border of the card.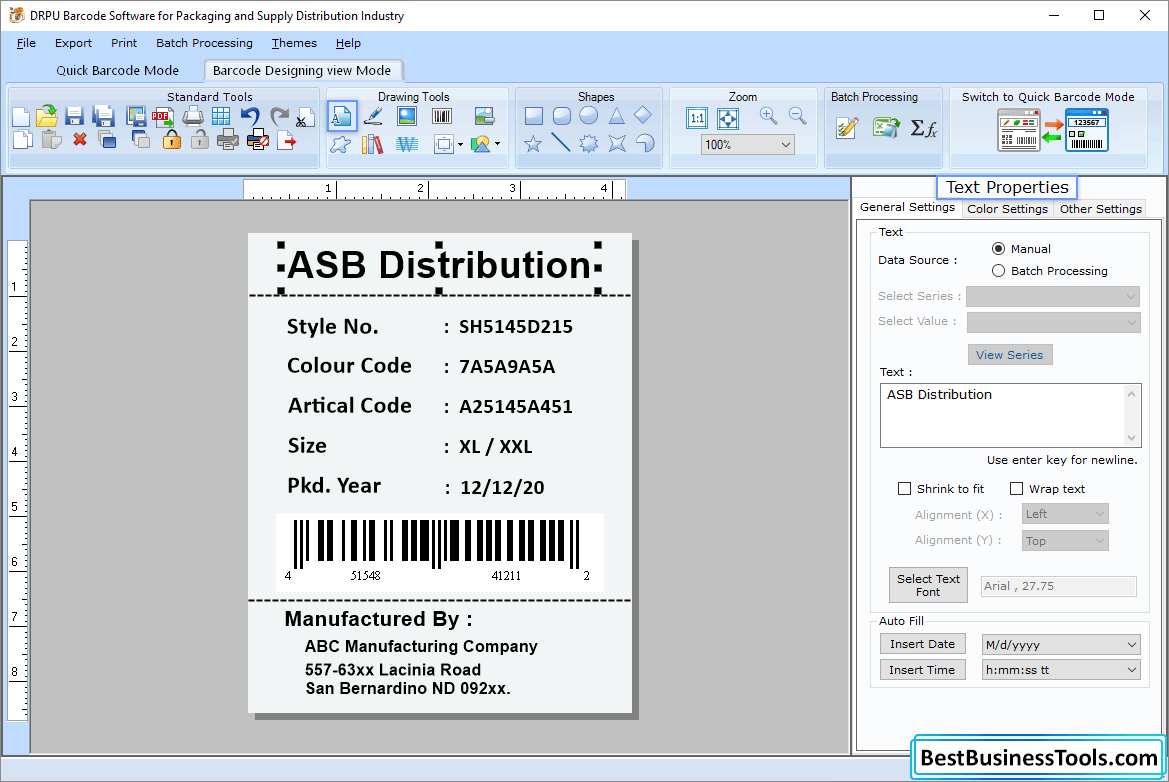 In Text Properties, change the General Settings, Color Settings and Other Settings of card.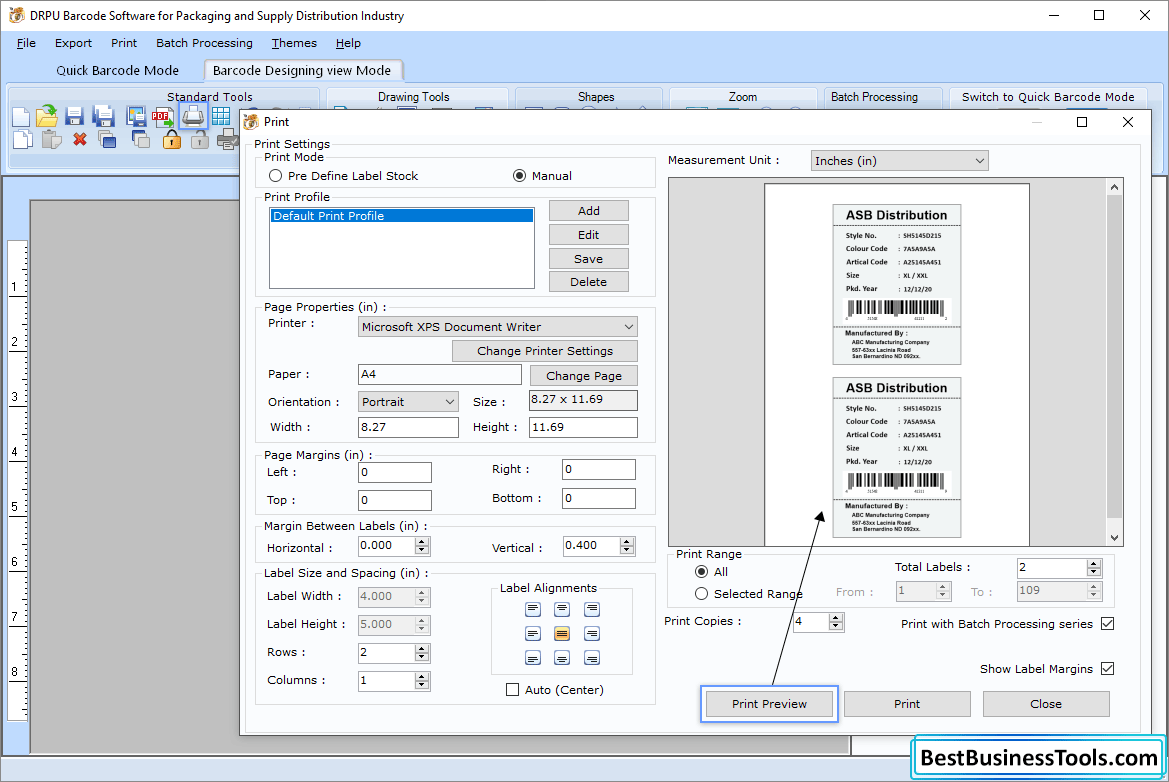 Select "Manual" then set the Label Details and click Print Preview.
Supported Barcode Fonts
Linear Barcode Fonts : Coda bar, Code 128, Code 128 SET A, Code 128 SET B, Code 128 SET C, Code 39, Code 93, Code 39 Full ASCII, EAN 13, EAN 8, Industrial 2 of 5, Interleaved 2 of 5, ITF-14, LOGMARS, UCC/EAN-128, UPCA, UPCE, USS-93.
2D Barcodes Fonts : Aztec, Databar, Databar Expanded, DataMatrix, MaxiCode, PDF417, QR Code.
Customized Utility : Highly interactive barcode label utility provides wizard interface to create attractive and professional barcode labels using barcode designing objects.
Font Settings : Option to modify barcode color, background color, font caption and margin details by which you can create custom style of barcode labels.
Print Settings : Option to print multiple barcode images on single paper, by using sequential, random and constant series generating options.
Print Preview Facility : It is used to see produced barcode images before print and eliminate printing errors during barcode image designing process.
Barcode Series : Allow the option to generate barcode list using Sequential value series, Random value series and Constant value series generating options.