Home
➥ Barcode Label Maker (Standard)
Barcode Label Maker (Standard)
Software support to all major Linear and 2D barcode font including Code 39, Code11, Codabar, Interleaved 2 of 5, Code93, MSI Plessey, Aztec, Databar, MICR, Postnet and Planet and many more.

Easy to use and affordable Barcode Label Maker Software is fully capable to generate and print high resolution and versatile barcode labels in the easiest and accurate way. Barcode generator tool design and print barcodes labels with support to all major linear and 2D barcode font standards including Code 39, Code11, Codabar, Interleaved 2 of 5, Code93, MSI Plessey, MICR, MaxiCode, QR Code that can be easily customized according to user needs. Professional and easy-to-use barcode printing application easily build any size and shape of colorful barcode labels in your own style and saves the generated barcode images in JPEG, TIFF, Bitmap, PNG, WMF, EMF, EXIF and GIF image format on your computer system. Barcoding utility is capable to generate high-resolution versatile barcode images in the easiest way. User can easily change the barcode labels caption color, caption font, background color, barcode color etc as per need and requirements. Highly interactive Barcode label utility allows user to print the generated barcode labels and stickers supporting all major general printer or barcode label printers. User can easily download free demo of Barcode Label Maker to understand and evaluate the barcode software features and functionality. Upon satisfying, we recommend you to purchase the full version of the Barcode Label Creator.
Software Working Features
Accurate Barcode Generator : Easily generate printable and professional barcode labels in click of the mouse.
Supported Barcode Fonts :
Supports all major linear barcode fonts including Codabar, Code 11, Code 128, Code 128 SET A, Code 128 SET B, Code 128 SET C, Code 39, Code 93, Code 39 Full ASCII, EAN13, EAN8, Industrial 2 of 5, Interleaved 2 of 5, ISBN 13, ITF-14, LOGMARS, MSI Plessey, Planet, Postnet, Standard 2 of 5, UCC/EAN-128, UPCA, UPCE, Telepen, USPS Sack Label, USPS Tray Label, USS-93
Supports all major 2D barcode fonts including Aztec, Databar, Databar Code 128, Databar Code 128 Set A, Databar Code 128 Set B, Databar Code 128 Set C, Databar Expanded, Databar Limited, Databar Stacked, Databar Stacked Omni, Databar Truncated, Databar EAN 13, Databar EAN 8, Databar MicroPDF417, Databar PDF417, Databar UPCA, Databar UPCE, DataMatrix, MaxiCode, PDF417, QR Code, MICR
Customized Utility : Helps to increase barcode images flexibility providing following facilities:
Font Settings : Allows you to modify barcode caption font, caption color, barcode value font and barcode value color according to your need and requirements.
Print Settings : Provides the facility to select the paper size, orientation and lets you set the paper margins while printing barcode images.
Print Preview Facility : This feature lets you view generated barcode images before you print to avoid printing mistakes.
Barcode Series : Bulk Barcode labels can be generated and printed using Sequential Barcode Series, Constant Value Series or Random Barcode Series.
File Format Support : Provides option to save barcode images to a variety of graphics formats, including bmp, tiff, jpeg, gif, png, emf and other similar file format.
Barcode Label Maker (Standard) Screenshots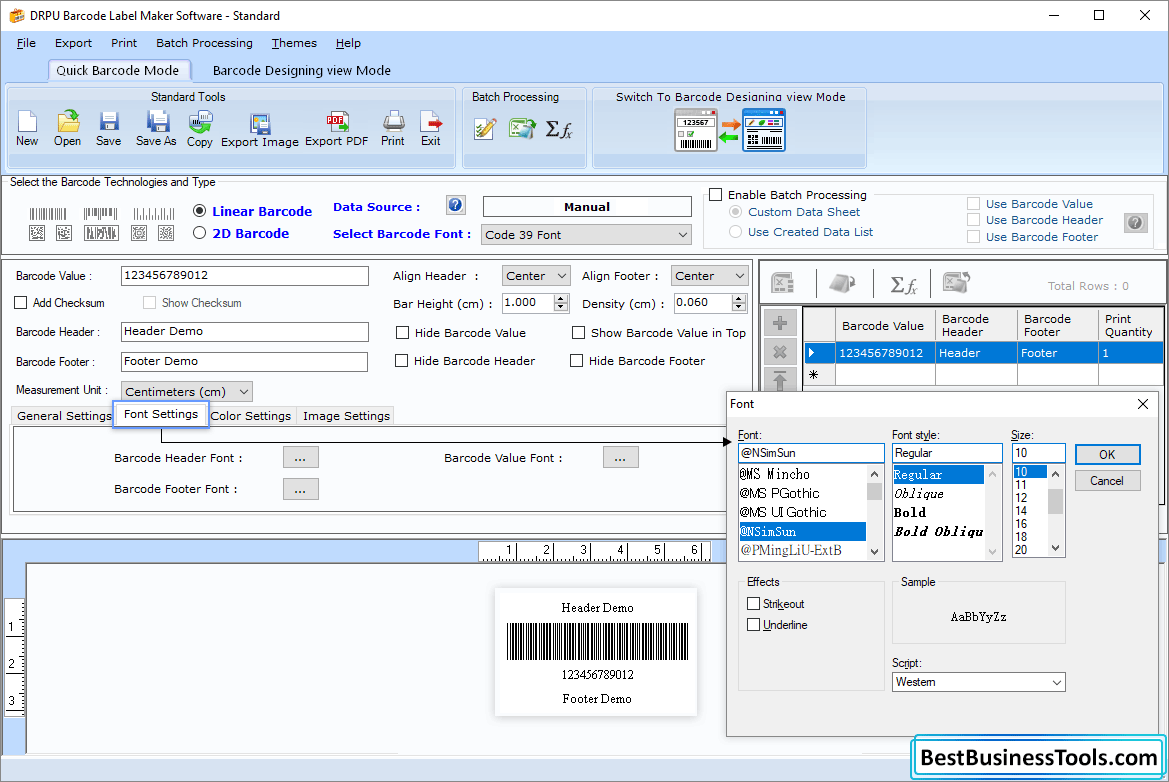 Change Font, Font Style and size of the header and footer.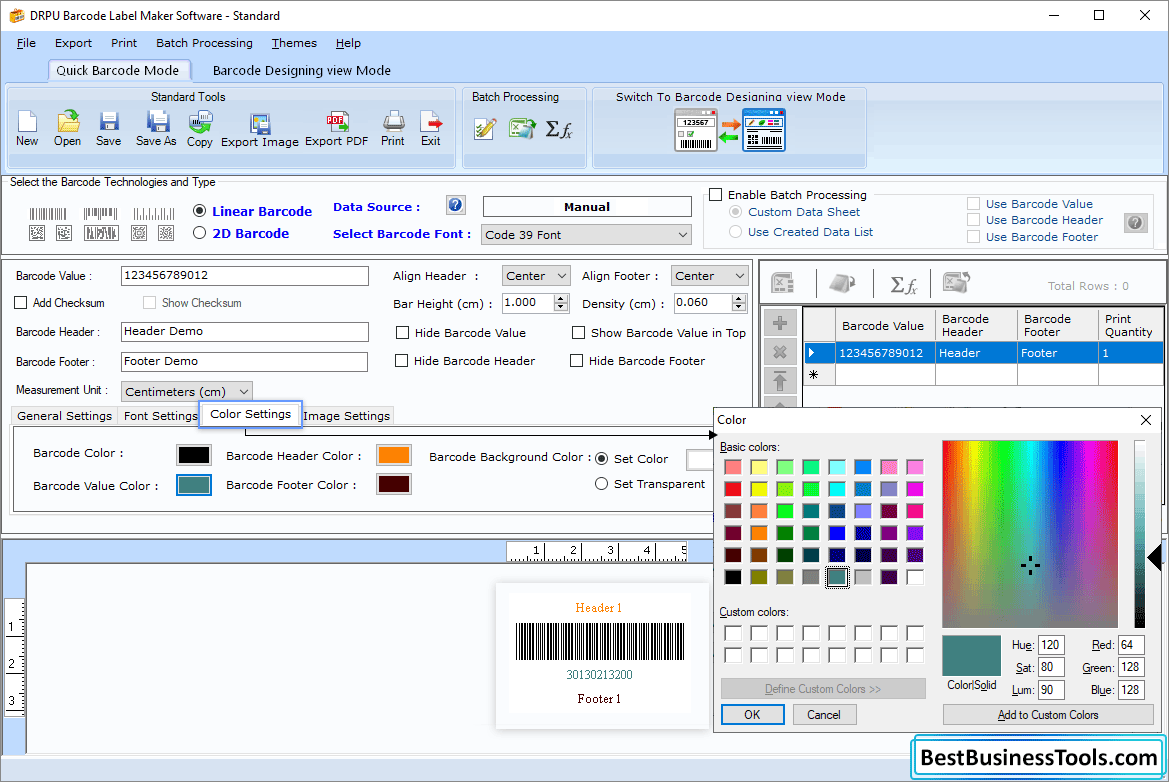 Click Color Setting Tab to change the color of Header and Footer.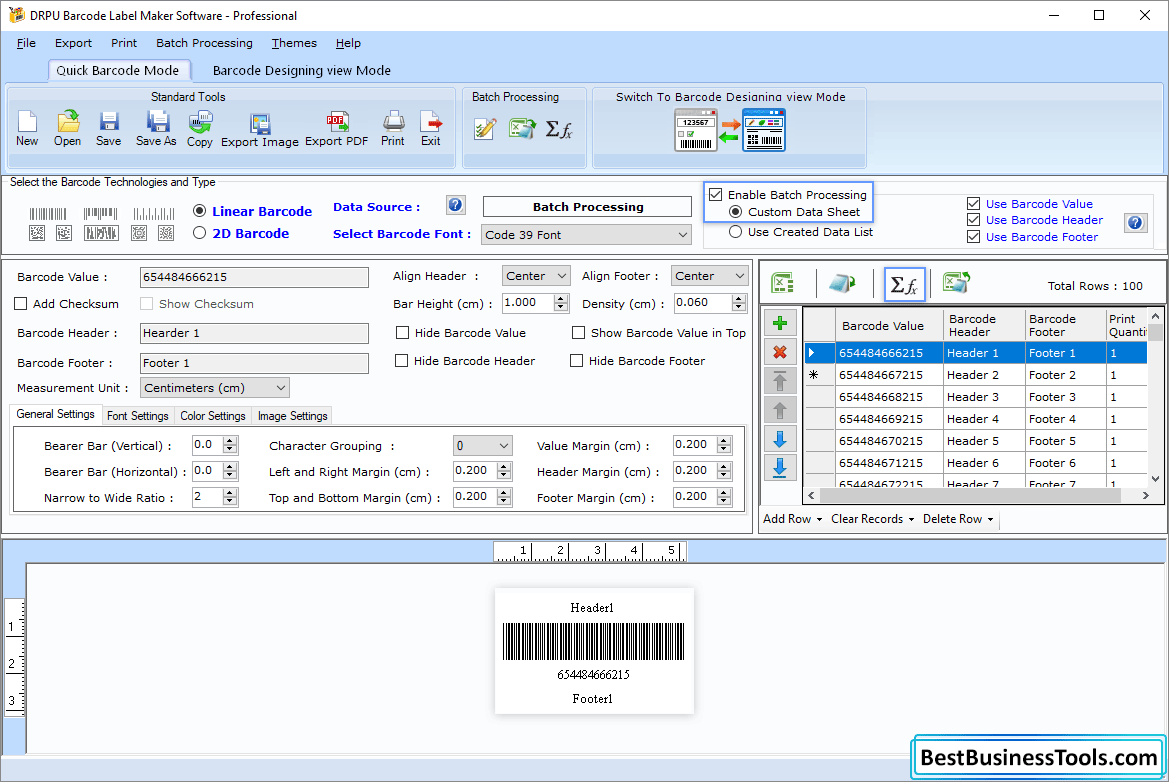 Enable Batch Processing then select Custom Data Sheet to create a series of data.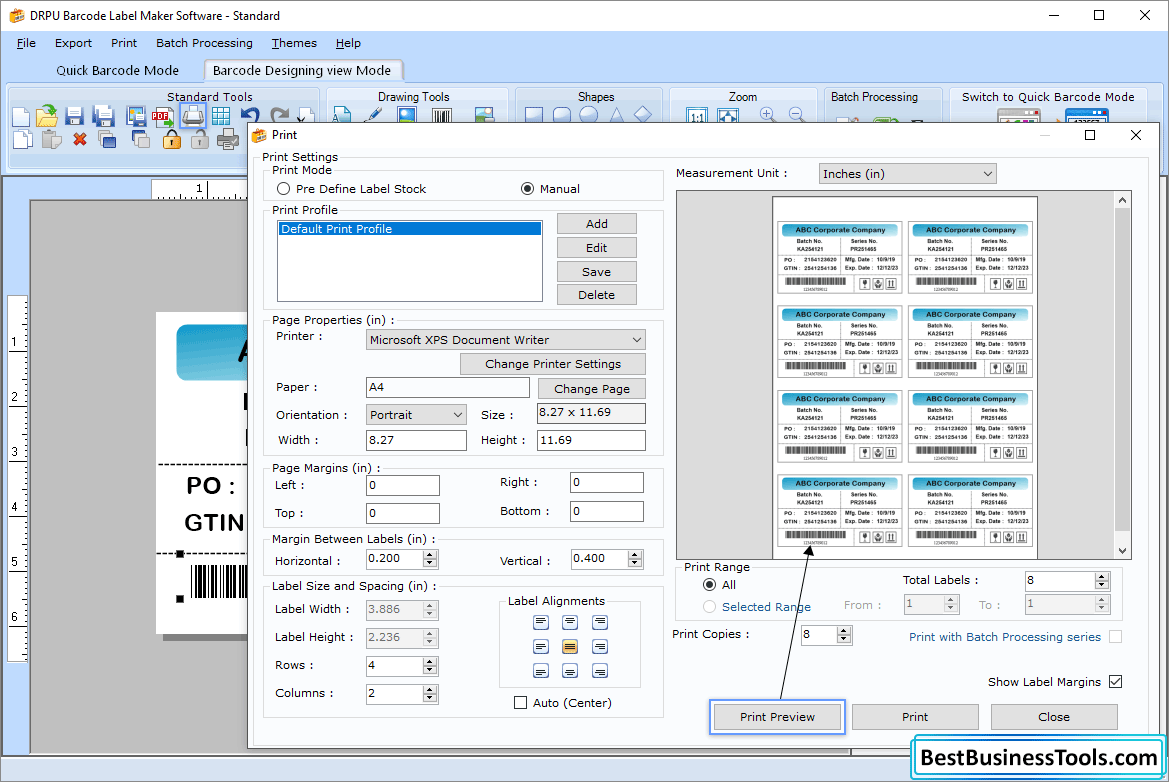 Select Manual then set the label details and click Print Preview.
Software General Features
Helps to generate high-resolution versatile barcode label images.
Provide option to generate barcode images with or without specifying barcode value and caption and Provide option to align barcode caption and value.
Barcode Maker use in various application areas including Retail store, Super Market, Warehousing, Transportation, Telecom Sector, Healthcare agencies, Libraries, Blood banks, Parcels, shipping and packaging industries, inventory field, distribution and other small to medium size organizations.
Each aspect of the barcode pattern can be controlled and represented in human-readable format i.e. barcode font, length, color etc.
Safe and secure barcode label program helps in quick selling of items just by reading through barcode scanner.
Easy to use and economical tool provides the visual environment so that even a novice user can easily learn and understand software features without any complexity.