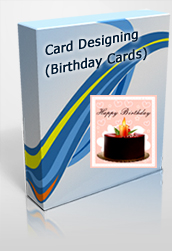 Simple and easy to use birthday card maker software is used to create inexpensive birthday cards with use of various birthday card image designing objects including text, personal messages and photo in minimum time and efforts. Powerful and easy to use birthday card software provides perfect solution to generate customized and colorful happy birthday cards with use of card designing objects including Text, Line, Ellipse, Rectangle, Pencil, Picture and Star objects. With option to specify color and background setting, you can design and print specialized homemade birth day cards with option to modify image settings, solid and gradient color settings, background settings and more. Software card maker provides advance functionality to create superior quality cards including Funny birthday cards, Adult birthday cards, Kid's birthday cards and Photo birthday cards in easiest and simplest way.
Birthday card designer software is cost effective and safe tool that helps to create own style birthday cards with image designing objects. From now onwards, no need to waste valuable time and money in purchasing expensive cards from market as software helps you to create photo birthday cards at memorable day to gift someone.

Software Working Features:
Easily create and design birthday cards using image designing objects without any specialized skills required.
Provide option to create birthday card in different shapes including rectangle, ellipse and rounded rectangle, CD, DVD shape etc.
Software provides graphical user interface by which novice users as well as expert users can easily understand the working capability.
Provide the option to fabricate birthday cards using new card or existing wizard format.
With the option of data set series generating option, you can create bulk birthday cards on single paper in minimum time and cost.
Customized Utility: Option to use Solid color, Gradient color, Image and background setting, you can create colorful birthday cards for Kids, Friends, Parents, and Relatives etc.
Color Settings: Option to modify created birthday cards by changing color (solid and gradient), image and style settings.
Print Settings: Print multiple birthday cards on single paper at a time without losing time and money.
Print Preview Facility: Option of print preview facility, you can see created birthday cards before final printing thus removing printing errors.
Software Requirements:
Processor: Pentium class or equivalent processor
Memory Space: Minimum 256 MB RAM
Free Hard Disk Space: 16 MB free hard disk space
Supported Windows Operating System:
Windows 7
Windows Vista
Windows XP
Windows Server Editions (2008, 2003) etc.