Home
➥ Barcode Maker for Inventory Control and Retail Business
Barcode Maker for Inventory Control and Retail Business

Barcode software is helpful for small to large size business organization searching for solution to manage business productivity in organized manner while managing supply, shipping and storage items. Inventory control barcode generator software create best quality and professional looking barcode labels to maintain the item stocks for labeling the inventory and retail business industries details. Inventory control and retail business barcode label maker software provides built in help to create customized and colorful barcode labels, tags and stickers for labeling inventory management product and business product in simplified and cost effective way. Most of the companies use barcode software to get accurate data in easiest and safer way. Highly standard and professional barcode label maker tool provides flexible solution to create barcode images useful for inventory management and retail sector in effective way.
Feel free to download the trial version of Inventory Control and Retail Business Barcode Software ➥
Barcode label maker software supports barcode printers and scanners to print and scan customized barcode labels to find out the details of item, product and material in efficient and effective way. Proficient designed barcode maker software provides advance functionality to create and design barcode labels for labeling and designing warehousing needs in easiest way.
Software Working Features
Simple and safe to use barcode label maker software is applied to create premium quality of barcode labels, tags, stickers, rolls and coupons in simplest way.
Using linear and 2d barcode font symbology, you can create inventory labels as well as retail barcode labels in efficient way.
Barcodes generator software is used to create custom made barcode labels and tags with available font, color and image settings.
Barcode software with barcode image designing objects include text, pencil, picture, ellipse, rectangle, arc and star objects to create own style of labels for business organization.
Barcode image design software is applied to create and print professional looking barcode labels in different sizes and shapes.
Barcode Maker for Inventory Control and Retail Business Screenshots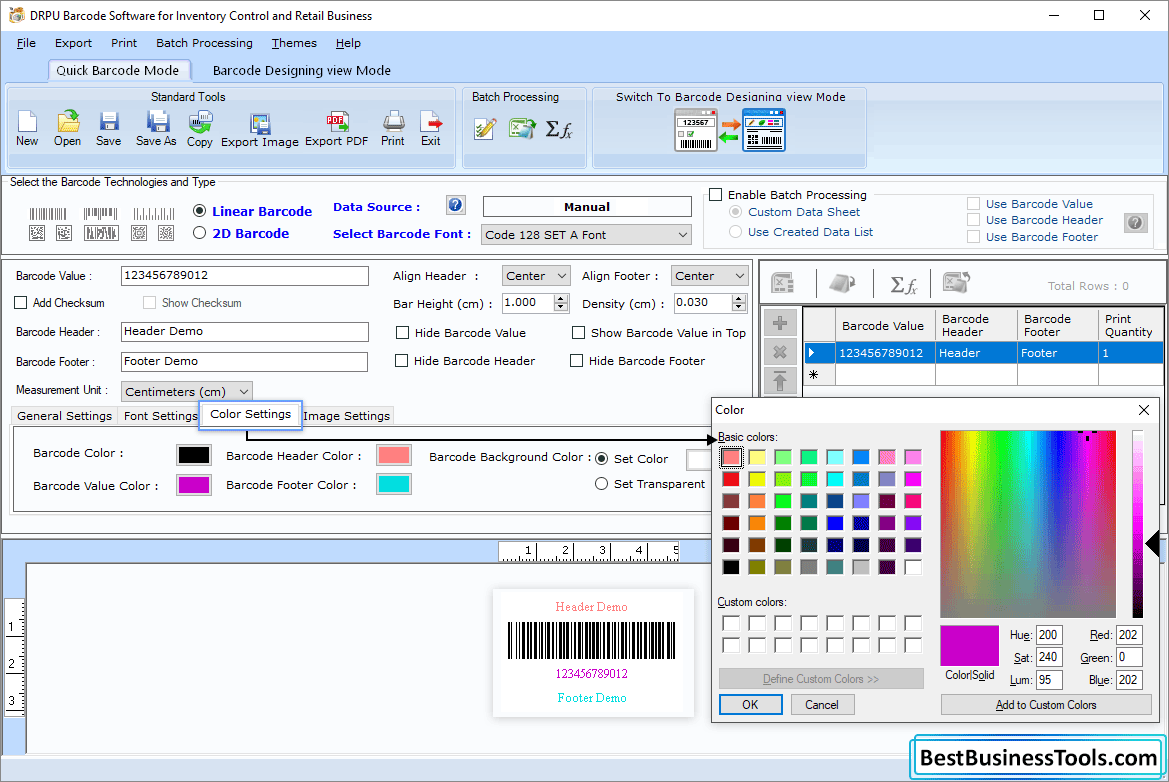 Change "Color Settings" of Header and Footer then click OK.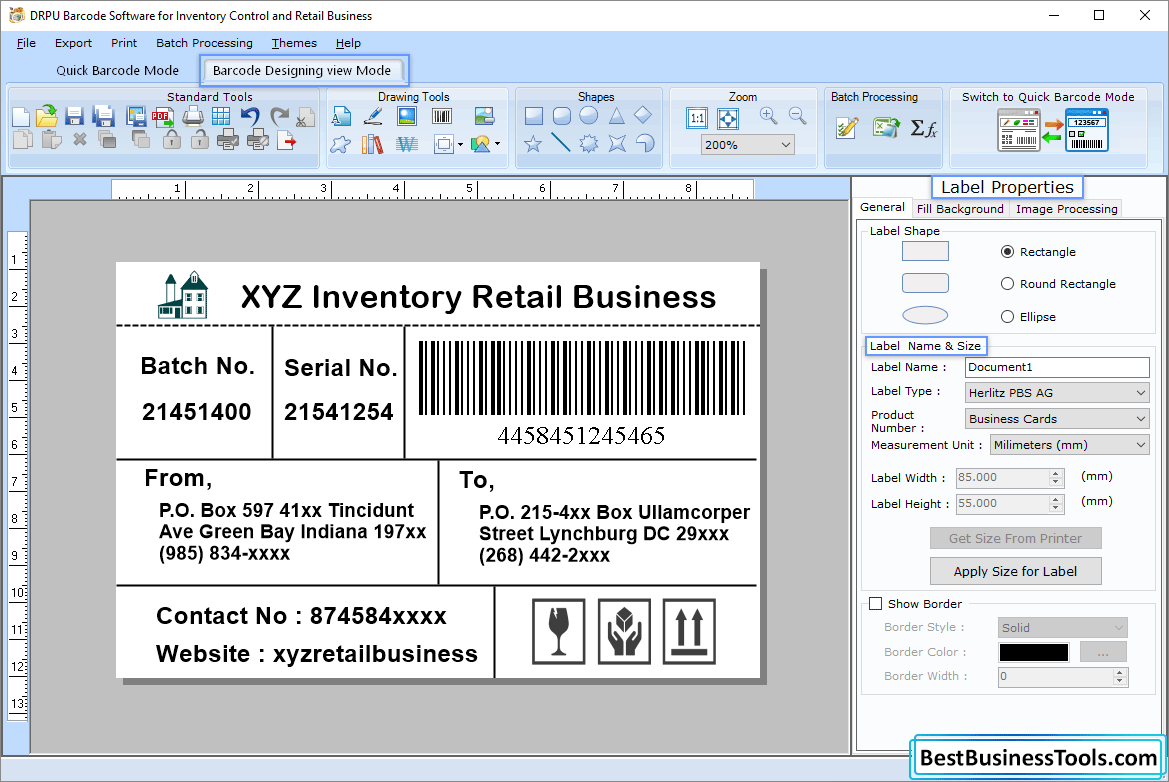 In Barcode Designing View, change the General, Fill Background and Image Processing properties.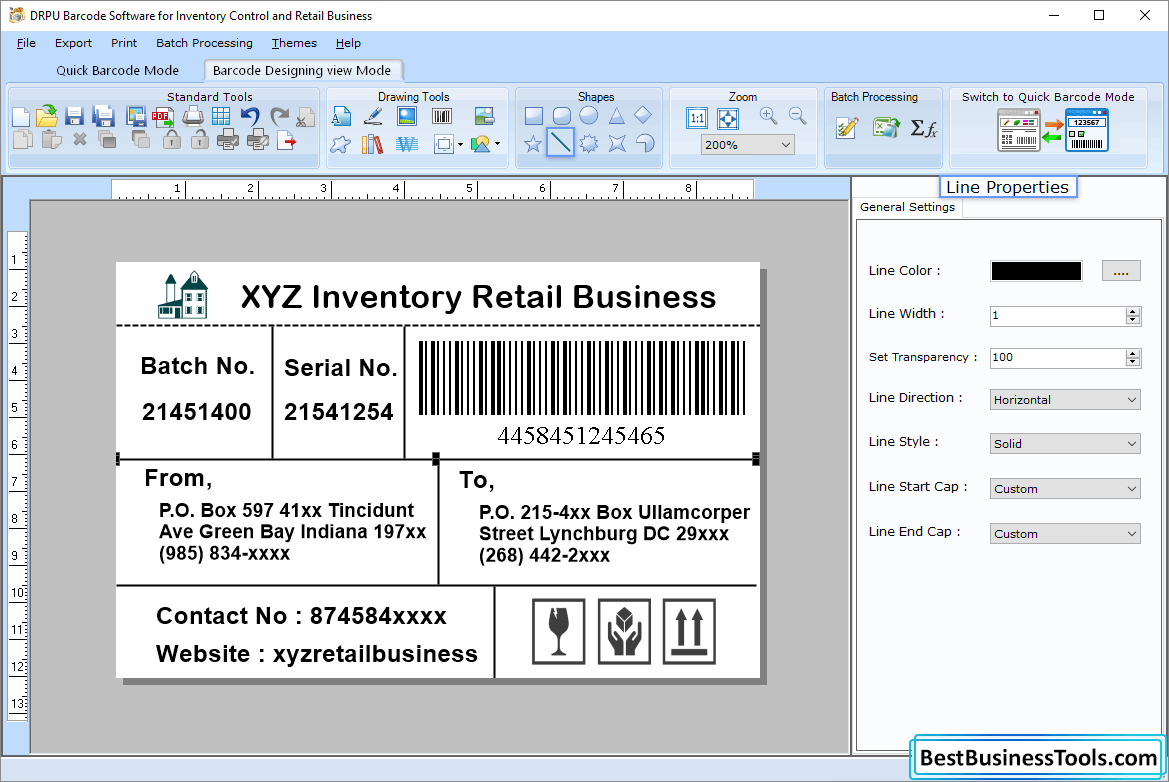 In Line Properties, change the Line Color, Line Width, Line Direction and so on.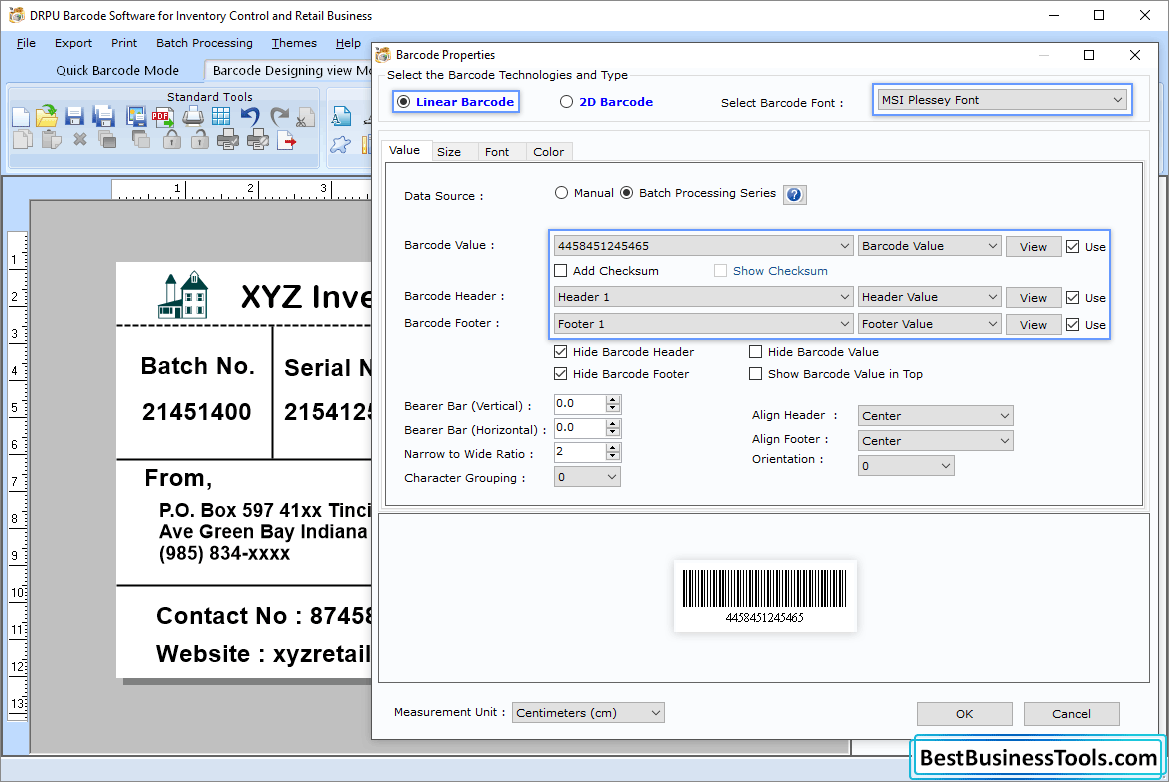 Select Linear Barcode and Barcode Font then enable Batch Processing Series and click Ok.
To print designed barcode select any one print mode after that check Print Preview.
Supported Barcode Fonts
Linear Barcode Fonts : Coda bar, Code 128, Code 128 SET A, Code 128 SET B, Code 128 SET C, Code 39, Code 39 Full ASCII, EAN 13, EAN 8, Industrial 2 of 5, Interleaved 2 of 5, LOGMARS, MSIPlessey, Telepen, UCC/EAN-128, UPCA, UPCE.
2D Barcodes Fonts : Aztec, Databar, Databar Code 128, Databar Code 128 Set A, Databar Code 128 Set B, Databar Code 128 Set C, Databar Expanded, Databar Limited, Databar Stacked, Databar Stacked Omni, Databar Truncated, Databar EAN 13, Databar EAN 8, Databar UPCA, Databar UPCE, DataMatrix, MaxiCode, PDF417, QR Code.
Customized Utility : Support barcode image designing objects to create professional, superior quality and custom made barcode labels, stickers.
Font Settings : Allows users to change barcode font, color, image and size settings to create own styles of business specific barcode labels.
Print Settings : With the option of image printing settings, software provides facility to create multiple barcode images on single paper.
Print Preview Facility : Print preview facility of software prefer to view created barcode labels before final printing to avoid printing errors.
Barcode Series : Create multiple barcode barcode list using sequential value, constant value and random value series generating options.
File Format Support : Provide option to save created barcode images on TIFF, GIF, EMF, BMP, EXIF, WMF and other similar graphic file formats.